How to Organize and Decorate Your L-shaped Living Room
Decor for a living room needs extra speciality and budget. For family gatherings, an L-shaped living room is an ideal choice. An L-shaped living room arrangement is popular among interior designers due to its uniqueness and adaptability. It is a way to personalize the vast and little sections to your heart's content. Lot orientation, accessibility, natural ventilation, and privacy and noise concerns benefit from L-shaped floor plans.
The most challenging part of planning an L-shaped decor for a living room is managing two distinct areas. It can give your L-shaped living room a unique personality by rearranging the furniture. The angular shape of the spaces and the open concept design allows for a wide range of imaginative uses. Here are some ideas to organize and decorate your L-shaped living room:
A Particular Color Scheme Is Required!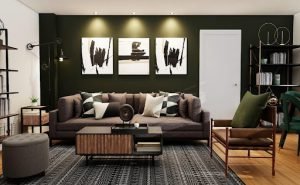 Firstly, the most important, in any room's design, is the color of the walls. You can change how people feel and view an area by changing its colors. As a result, the two halves of an L-shaped room can be united or divided using paint colors. Like any design selection, the most fantastic color for your area is what you enjoy the most. While choosing the colourful modern paintings for living room  for your wall, consider the colors of your room's furnishings, textiles, and other decors.
Next idea that you can apply at decor for a living room is using bold and dramatic colors.  When painted on the main wall, red, blue, yellow, or grey stands firmly against white or other light neutrals. Burnt orange and teal with navy and black and white are now popular color combinations for a dramatic appearance.
Exquisite Open and Clear Environment: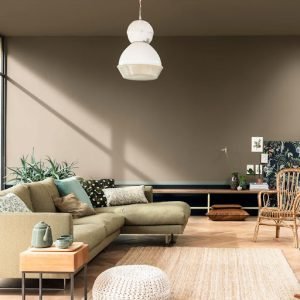 Lighter, gentler colors are ideal for an airy, open look. In this case, the usage of paint chip samples is beneficial. Choose a lighter shade of the desired color from a color swatch to acquire the desired result. Pastel greens and light blues and white, cream, and beige work well together.
Colors like beige, brown, and grey, which fall somewhere in the middle of the spectrum, look good with just about anything. A single neutral color can never go wrong if you experiment with different shades. No matter how bright or vivid the color, it will go well with your general neutral scheme.
Best Furniture Placement?
It's best to start with an eye-catching feature like a fireplace or a huge window, but the television is the best spot to begin in most cases. It is common for designers to recommend that the L-shaped room's largest rectangle be used as its principal function.
Therefore, if your living room is primarily for socializing and binge-watching television, you should place most of your items there. Creating a reading nook, dining area, office, or another purposeful location in the L-shaped space is possible.
The smaller portion can place a modest sofa and TV of the L-shaped space if you don't intend to use it for gatherings or entertainment.
Create a Relaxed Flow with Seating:
In this more formal decor for a living room setup, a sofa and two chairs face each other. Mid-century modern designs are great for L-shaped living room furniture because of their simple forms and compact proportions. This period's furniture is characterized by natural materials, such as light wood tones and leather, which provide a sense of effortlessness and elegance.
If you're puzzled about how to design an L-shaped living room, check out some Mid-Century Modern homes and settings. Because they are typically L-shaped or open-concept, these rooms might serve as design inspiration for your own home.
The Seating Is Minimalist to Provide an Anchor:
An easy way to maximize an L-shaped living area is to anchor your walls and corners with seats. Modern furniture like a sofa and two seats fill the space's awkward corners, making the room appear larger and more open. The simplicity of their design helps to lighten the atmosphere of the space. The sofa is positioned to face the fireplace, which is the room's center point. Also, it helps to divide the L-shaped room into two distinct areas: one for the main seating area and one for a small nook. Bring the room together by placing two armchairs in each corner. The result is a lounge and conversation area that is well-balanced and well-located.
Partition: Yes, it's possible!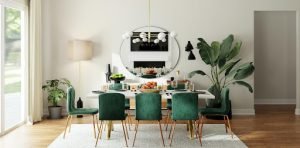 Creating two semi-separate rooms can be done with minimal construction. One or two screens hanging on an unobtrusive rod can quickly create an additional room in a living space. If you have the time and money, a half-wall or bookshelves might be a great way to divide the rooms.
As a follow-up question, how could we best utilize this new area? Interior designers come up with endless possibilities, such as turning it into a kids' playroom or a game room complete with a pool table or dining table, which would be excellent for gatherings of family and friends.
Make Unpleasant Places Usable:
L-shaped living rooms present some unique challenges when decorating. The action in this section takes place in the nooks and crannies near the hearth.
We found a workaround by placing an armchair in one corner and a media console. The media stand is an excellent alternative if you're searching for a piece of furniture that can serve as more than simply a TV stand. Furniture should lay it out in a way that makes sense in the context of your daily activities.
Make a Rug Zone in Your Room!
Because of the awkward angles, it's tough to divide an L-shaped living room into two distinct areas. When it comes time to divide your space, this is the quickest and easiest method. As in this office corner, rugs under seating spaces help distinguish them from one another. For unrestricted flow and passage through the entire room by outlining flow and route.
Conclusion:
L-shaped living rooms can be decorated in many ways, as demonstrated by the examples above. For decor for a living room when deciding on paint colors, rugs, and room dividers, consider how you use the space. If you'd like a room divider, place your furniture so that it creates a focal point and consider inventive ways to do it. You will never again have a typical L-shaped living room in your home, but rather a unique manifestation of your particular style and ostentatiousness in home design.
READ NEXT: Practical tips and ideas to beautify your false ceiling design
RELATED TOPICS: home design